When selecting a windows 7 SP1 install.wim file, i get an error message: choose a valid windows edition (see sshot).
I'm running Win 8.1.1 ProWMC x64 (UEFi on a GPT system). Since yesterday i got this error message using Winreducer 8.1 v1.18 while opening a windows 8.1 install.wim, i began rebuilding and updating (using dism) a new build and after that reducer opened that one fine but older builds it did not. Today i wanted to build an updated windows 7 sp1 pro install.wim but now i get this error (see sshot below). I used Winreducer 7 v3.00 rc4.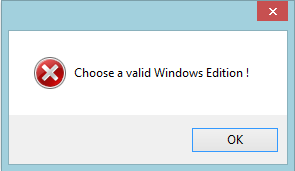 The wims open just fine in windows toolkit and dism.
I only use winreducer for 4 little tweaks, 3 of them i cannot do using wim reg load on a mounted wim.