I've been experiencing quite a bit of strange behavior after shrinking Windows 10 (US) with the most recent Winreducer version:
1. Windows Mail, Search: Removed them, yet they're still in the start menu and seem to be fully functional
2. Double-Clicking on Bitlocker-protected drives in explorer throws an error message instead of presenting the password input dialog: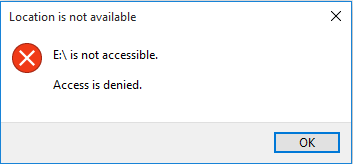 I have to enable my protected drives in the control panel to gain access. The Bitlocker service is set to automatic start and seems to be working.
3. The Internet Explorer Control Panel options were removed despite the fact that I didn't select them. Those were apparently automatically selected after choosing Internet Explorer to be removed, but I deselected both of the control panel options after selecting the removal of IE, yet they were removed. It's important to keep access to the internet explorer options since the proxy settings that can be set there take effect for the entire system and therefor other online apps.
4. Calculator was removed, even though I explicitly kept it. There's still a calc.exe present in the system folder, but it's way too small with only 32kb in size and it doesn't work.
5. After installing my graphics drivers and Adobe Flash, I experienced extremely strange bugs with the start menu: Whenever I clicked on it or pressed the Windows key, it only flashed for a split second in the upper left corner instead of rolling out from the taskbar. I have to press the Windows button for about a dozen times until it finally appears properly after which it again starts to act up. I installed a vanilla Windows with the same drivers and setup and experienced no such issues leading me to believe that this is Winreducer related. I also uninstalled every single software I installed on the shrinked Windows version to no avail.
I was able to track some background action with Procmon. Every start menu button press seems to invoke Searchui.exe which is not active and closes just as quickly as the start menu. Since I have removed Search, this might be the reason. Also, it seems that every button press invokes the following command:
"C:\Windows\SystemApps\ShellExperienceHost_cw5n1h2txyewy\ShellExperienceHost.exe" -ServerName:App.AppXtk181tbxbce2qsex02s8tw7hfxa9xb3t.mca
Update
: By now I was able to fix the startmenu bug by deleting the Windows.Cortana-directory in C:\Windows\SystemApps
It contained 1200 files, including SearchUI.exe. After taking ownership and removing it manually, the start menu instantly started to work. In another reduced Windows build I tried to fix it by using different options in Winreducer and that also worked, however, I can't for the live of me remember what I changed. Still, said Cortana-directory was still present (same size and all, including SearchUI.exe) without causing any troubles. Anyway, since I had also selected the removal of Cortana in both builds I'm surprised to see this directory at all. Shouldn't it have been removed? I also removed it manually on my second build and so far none of those systems seem to mind that it's gone.
Update 2:
Today, while booting up Windows failed some updates for my graphics card even though I already have the newest drivers installed. So it rolled back the changes and after the reboot the start menu problem was back again. This is on the second build which I thought used the correct Winreducer settings to avoid it. A quick deletion of the cortana-directory solved it once again.
No bugs, but just a few suggestions: Winreducer currently doesn't support removing the UI apps Calender, Mail and Get Started (I suppose this was removed after you found out that it would break the start menu). It would be nice if Winreducer would support the removal of those apps. Also, it would be great if Winreducer supported an option to show the taskbar only on one monitor, to show hidden system files and to set the control panel to show small icons.
Anyway, thank you for this awesome tool. I've been using it since it came out. Keep up the good work