Hi, 
After try WinReducer 7.0 - v4.1.0.0 (18 May 2015) and read several respond about 
Activate your WinReducer Edition
.
Screenshot :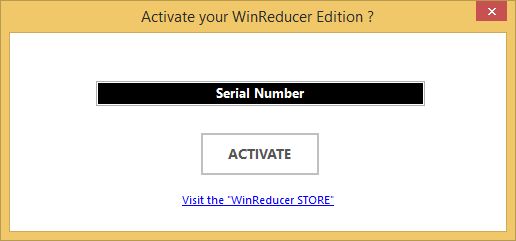 It show every start and exit programs, as "winterstorm2050" said;
winterstorm2050 wrote:

This is not that because as you have probably seen using this new version : there are no functionalities limitations when you use WinReducer 7.0 (aka like in previous version) ... you only see more messages, informing about the possibility for users to help the Project. These messages appear time to time when you move from one functionality to another, so, you are able to still use WinReducer without limitations ...
i also agreed with "greenworld" about;
greenworld wrote:

If this, I don't have problem with it.
Developer needs donations, WinReducer is nice tool.
So i've suggestion for winterstorm2050;
Could you offer the
NON-ViP WinReducer Edition License Key ?
(60 days Renewable License Key) like "
NON-SIGNUP License Key
" from "donationcoder.com" Software.
url: "http://www.donationcoder.com/Keys/nosignup.php"
... also for other WinReducer Software, i hope ?
thank's